St. Lucia and the Anse Chastanet Resort
A Lifestyle to Which I Would Like to Become Accustomed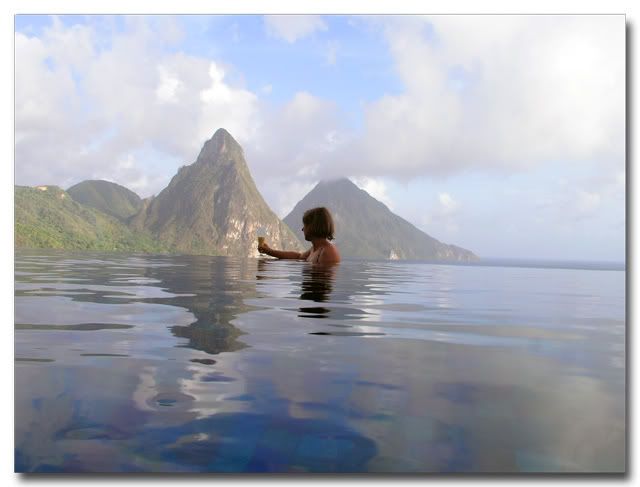 Kriss in the Jade Mountain Club Infinity Pool
Sometimes I think the worst mistake of my life was buying my wife a copy of the book "1,000 Places To See Before You Die", as she seems to have taken the title a bit too literally. When she read the entry for the Anse Chastanet resort in St. Lucia and saw the mention of "...some of the Caribbean's best snorkeling and diving is just few feet off shore", it was a foregone conclusion that at some point we would be going.
Fortunately, we both love diving. While I prefer the Eat, Sleep, Dive routine of a liveaboard, Kriss likes a relaxing, preferably luxurious, land based resort. As a result, we have worked out a compromise were we tend to alternate liveaboard and land based trips. Since our last trip was a high energy, adrenaline rush packed trip to the Galapagos that I wrote about in Diving The Galapagos Islands, it was only fair that our next trip be to a laid back, beautiful destination with some stress free diving, so I finally capitulated and our trip to Anse Chastanet (AC) was booked.
Barred Hamlet
Anse Chastanet
Since this was a combination 24th anniversary/de-stress from some high-pressure jobs trip, we decided to splurge a bit and book the "Coral Kaleidoscope Package" with one of the pricey Deluxe Hillside rooms and twelve dives. Individual meal prices tend to be rather high and options for dining away from the resort are limited, so we also opted for a Full American Plan (FAP) meal package that included breakfast, lunch and dinner, but not snacks or drinks apart from meals.
Friday, the day before our very early morning departure, Kriss received a call from the resort. It seems they had booked two large wedding parties and they would not have a room available for us the next night. To make up for the bump, they would put us up in a suite at the Royal Hotel in Castries, and of course pick up our meals. Saturday afternoon we would be transported to Anse Chastanet. There, we would be upgraded to a suite in Jade Mountain, the very exclusive private "Resort within a Resort" with an all inclusive meal plan thrown in. Of course, Kriss responded "Sounds great, BUT WE HAD BETTER NOT MISS ANY DIVES!" A few hours later they called back to assure us that arrangements would be made so no diving was missed.
Glasseye Snapper
On Saturday, it was up at 2:00 AM to catch our early morning commuter flight to Chicago and then on to Puerto Rico and finally a turboprop flight to St. Lucia. Travel was uneventful, but I must say that American Eagle has the most uncomfortable seating of any commuter airline I have ever flown. Upon arriving at Vigie airport in Castries in the northern part of St. Lucia, we quickly cleared immigration and customs. As soon as we exited the terminal we were met by a very pleasant driver who loaded up our luggage and as soon as we climbed in the van, he handed us a letter. The letter informed us that our driver would meet us again at 9:00 AM the next morning to transport us to a special water taxi that would be waiting to take us to the resort.
Sand Diver
The Royal was a very nice all suite property located on Reduit Beach, which is said to be the nicest beach in St. Lucia. It boasts a spa, exercise center, free form pool with a swim up bar and several restaurants. Since we were on Anse Chastanet's dime, we dined at the high end Chic! restaurant. Unfortunately for us, they were all about nouveau cuisine, and the meal was more about presentation and the artful arrangement of the miniscule portions than actually sating a hunger. The forty-five minute waits between courses got a bit old as well as we were exhausted from being up eighteen hours and traveling all day. Still, the little food we actually ate was quite good. Based on our brief fifteen-hour stay, if you are looking for an upscale place to stay near Castries, I would give the Royal a strong recommendation.
The next morning, our driver arrived promptly at 9:00 AM and hustled us to the docks were our bags were transferred to a waiting water taxi. Forty five minutes later, with a couple of stops to point out items of interest along the way, we were deposited at the AC dock where a couple of the staff grabbed our gear and escorted us to the Scuba St. Lucia dive center desk. There, Kelly German, the Canadian co-manager of Adventure Sports (diving, snorkeling, mountain biking, kayaking, etc.) at AC, told us that our room would be available later that afternoon, but in the mean time, they had arranged a special shore dive for the two of us. We then did the paper work drill and she actually seemed surprised we were both divemasters (I know, I should be a very experienced AOW diver...) and would need no gear except for tanks and weights. Divers are required to pay of marine park fee of $5 per dive, or $15 per year.
Anse Chastanet Beach
Diving at Anse Chastanet
I need to stress that if you are considering St. Lucia as a dive destination, you should be aware that the island's dive operators tend to cater to novice divers, and not the very experienced or professional diver. Don't expect a Habitat type resort where you are free to grab a tank, jump in any time and do you own thing, or dive to the limits of your computer. Profiles were geared toward single tank table dives and during the briefings, divers were typically told that bottom times would be 65 feet (20 meters) for 45 minutes. Since we were diving computers, Kriss and I were told our depth was our concern, but we still needed to end the dive with the divemaster. Total dive times during the week ran from 41 minutes (this was an exception when a newbie buddied with the DM hoovered his tank) to 58 minutes and we frequently finished our dives with more than 1,000 PSI (69 Bar) and a few times with over 1,500 PSI (103 Bar). My average total dive time during the week was 49 minutes. This is not intended as a criticism or complaint, it just the way it is.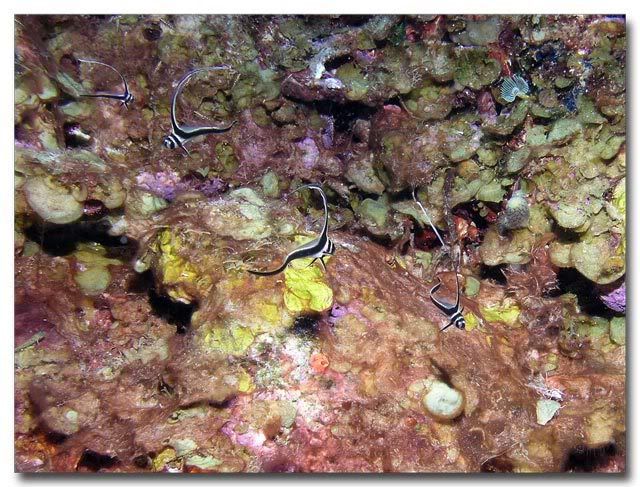 Four Juvenile Spotted Drums
All divers at AC are required to do an initial shore dive in order to demonstrate some basic skills (mask flood and clear, and reg recovery and purge) and to check equipment and buoyancy. All divers must be accompanied by a divemaster. While the brochures and guidebooks stress the great shore diving, these are only offered a couple of times a day and it should not be interpreted as "unlimited shore diving". Sign-up sheets for the shore and boat dives are located at the dive shop desk.
Banded Coral Shrimp in Current Squashed Barrel Sponge
Despite the aforementioned claim of "some of the Caribbean's best diving", which I wrote off as a bit of hyperbole, I was not expecting much from the diving in St. Lucia. I had seen very few trip reports on the island and the few entries in the Undercurrent Chapbooks were a bit vague. Thankfully, I was very pleasantly surprised at just how good the diving was.
Yellow Frogfish
As soon as we demonstrated our skills, Callistus, our divemaster, lead us over to a shallow wall covered with yellow tube sponges. Nestled among the sponges were a couple of yellow Frogfish. A few of feet away was a free swimming Chain Moray eel. In under two minutes my expectations of St. Lucia diving went way way up. By the end of our forty-nine minute dive, I knew that our diving definitely wasn't going to suck.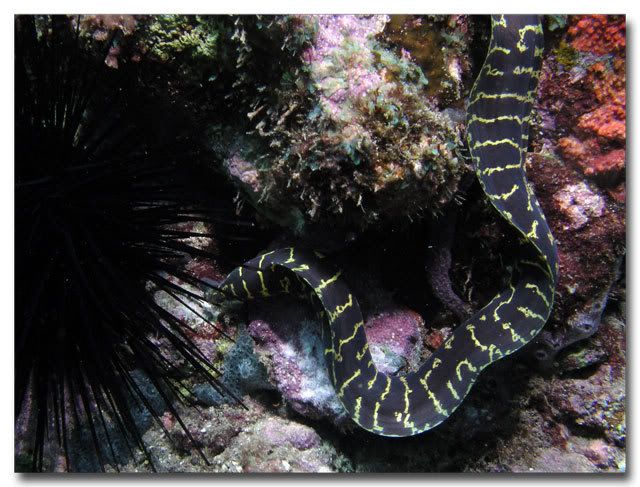 Chain Moray Eel
During our dives, I found the coral to the exceptionally healthy with absolutely no signs of bleaching or other diseases despite the consistent 82° F (28° C) water temperatures. Barrel and other sponges were also large and healthy. Their current flattened shapes reminded me of diving in Tobago. The only sites that were less than pristine were Anse La Raye Wall to the north that was somewhat algae covered, and Pinnacles, with some coral rubble. I'm guessing the coral rubble may have been a remnant of Hurricane Ivan in 2004 that caused some damage to the island. Fish and critter life was quite good, though other than a few small Barracuda, virtually no large fish were seen during the week. Although Green Morays were conspicuously absent, we did see the Chain Moray and numerous Spotted, Goldentailed and Sharptail eels. Also absent were most members of the angel family with only a couple of intermediate French Angel fish and a single Rock Beauty spotted.
Goldentailed Eel
Yellowline Arrow Crabs were just about everywhere you looked and several other species of crab were spotted during our dives. Banded coral shrimp were also ubiquitous and we spotted the occasional Scarlet-Striped Cleaning Shrimp. Various species, including: Magnificent, Social and Split-Crown Feather Duster worms, and Christmas Tree worms were also common. Numerous Balloonfish and the occasional Burrfish were seen.
Burrfish
I was finally able to capture a picture, though not to my satisfaction, of one of the two juvenile Smooth Trunkfish we saw. Callistus, who also divemastered on our last day, spotted another on our dive on the wreck of the Lesleen M, but we were too far away for him to get our attention. I also saw more juvenile Spotted Drums than any other Caribbean designation I have dived. It seemed like there was at least a pair and occasionally up to four tiny little drums flitting about under practically every ledge.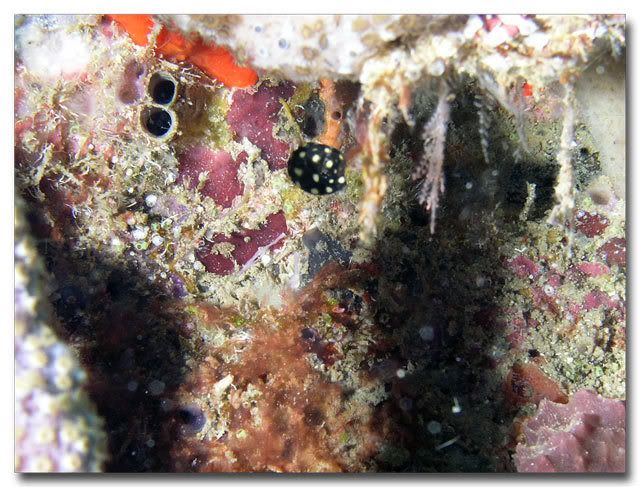 Juvenile Smooth Trunkfish
Turtles were also frequently spotted. On a dive on Fairyland, Terry the divemaster did a wonderful job of subtly encouraging a small turtle to swim right past me so I was able to get a good tight photo. On another dive at Superman's Flight at the base of Petit Piton, I spotted a turtle tucked up under a ledge. As I headed in for a photo, the turtle backed out and I was afraid I had woken him and scarred him off. It turned out he was a bit of a ham and was only turning around so I would get a shot of his "good side". On another dive at the same site (it's worth doing twice) we spotted the lone sea horse of the trip.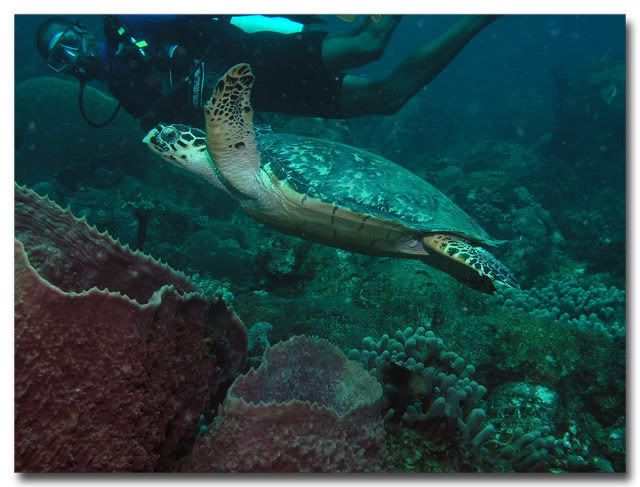 Terry and the Turtle
Perhaps the biggest treat of the week came during the first of our two night dives, which are done as shore dives on the house reef and are offered twice a week on Monday and Thursday. We had finished the wall portion of the dive and were heading back into the shallows. I noticed that many of the numerous sea urchins had a milky white cloud around them. As I kicked in for a closer look, I saw several of the urchins release their gametes simultaneously and I realized what I was witnessing. It was sea urchin spawning. Thanks to the shutter lag of my camera, I wasn't able to get a photo of an actually release, but I did get a few photos of the urchins surrounded by splooge. Very neat to see.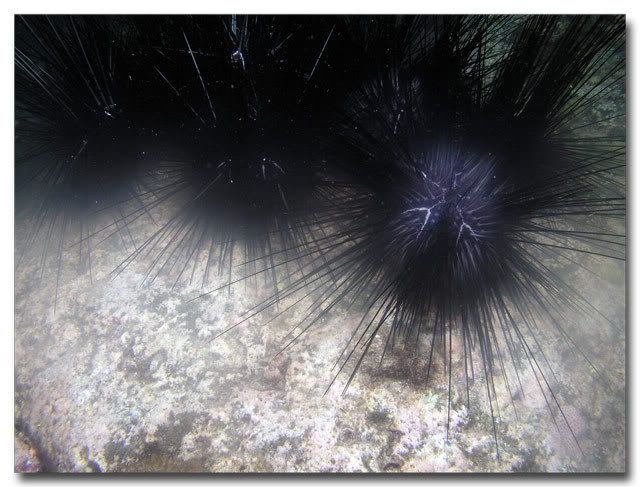 Urchin Splooge
Our boat dives were done from either the Miss Ina or the Miss Bertha. Both are powered by twin 250hp outboards. The boats are covered and carry a full array of safety gear, including marine radios and DAN O2 kits. I only had to ask one time for the dedicated camera rinse bucket to be filled. Most sites are no more than fifteen minutes away, and all dives are done as single tank dives with the exception of the Lesleen M wreck and Anse La Raye Wall dive, which is a two-tank trip offered on Fridays. While the boats look like they could get a little cattle boaty, this certainly was not the case while we were there. Granted, it was a very slow week for diving, but Kriss and I were occasionally the only divers on the boat and there were seldom more than four. On one occasion when there were actually seven divers on board, we were divided between two divemasters. Entries are either back roll from the sides, or a giant stride from the stern. Exits are by stern mounted twin ladders. All boat dives, except for the wreck, were done as live boat drift dives. It just doesn't get much easier than this. Depending on the site, the currents ranged from mild to fairly strong. Typically the stronger the current the better the vis, which ranged from 50 to 70+ feet (15 to 21 meters).
Dive Boats Seen from the Piti Piton Resturant
The various area dive operations have worked out a schedule for diving the Lesleen M so that two boats will not be on the wreck at the same time. Of course, when we went to moor, the Sandals resort boat (I think it's called the MOO) was in the processes of disgorging its multitude of divers into the water. When our captain asked them what they were doing, they replied that conditions were bad the previous day so they came back (sigh). We tied up along side and entered about a minute after the Sandals group. Thankfully, we only saw the group once at the start of the dive. By the time we ended our dive 47 minutes later, there was no sign of the Sandals boat. While I thought our bottom times were a bit short, I guess things could have been a lot worse. Remember, Friends Don't Let Friends Dive Sandals!
Blackbar Soldier Fish inside the Lesleen M Wreck
The wreck is a 165-foot (50 meter) freighter intentionally sunk in 1986. It hosts a nice covering of fans and sponges and lots of fish life. During a light penetration of the wreck, we found an impressive school of Black Bar Soldier Fish. Down in the hold I spotted an enormous lobster out of his hiding place under the deck plates. There was a bed of particularly brave garden eels located in the sand on port side of the ship and I was able to come quite close to them before they ducked down their holes. Despite the strong current, the vis was only about forty feet and the water was full of particulate matter, so I wasn't able to get any decent wide angle shots.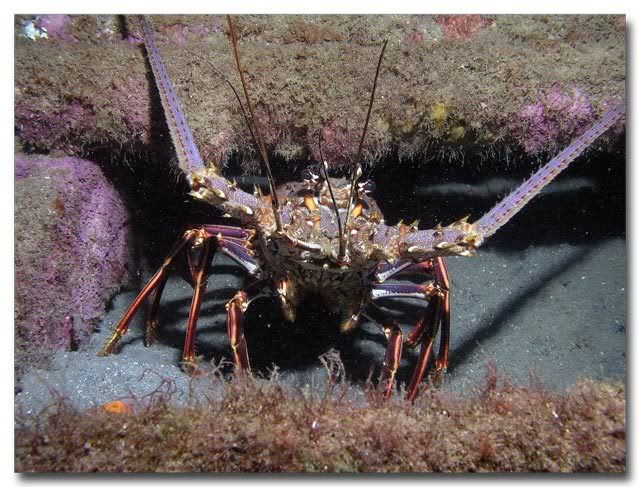 Lobster in the Lesleen M Hold
The supplied tanks were AL 80's and were consistently filled within 100 pounds (7 Bar) of 3,100 PSI (214 Bar). AL 63's are also available on request. Nitrox is also available for an inexpensive $5 per tank, but given our conservative profiles, we saw no need for it except on our last day. Since we would by flying with only about a twenty-hour surface interval, we dived Nitrox on an air setting for just a little extra safety margin. All the tanks analyzed within a couple of tenths of 32% O2. 36% O2 is also available, though I can't imagine why you would want it.
Garden Eels
The Padi five star Gold Palm/National Geographic Dive Center/SSI Platinum dive shop is very nicely set up. There are three large fresh water rinse tanks for gear in front of the shop. A fourth large dedicated camera rinse tank is located around the corner in the shade. An enclosed gear storage area, with lockers and supplied locks, is provided. The gear storage room also hosts a couple of changing rooms. Rental gear consisted of Scubapro regs, Aqualung BC's and 3 mil shorty wetsuits. All appeared to be well maintained. Most divers were wearing either just a t-shirt or a shorty for exposure protection in the balmy 82 °F (28° C) waters. Being "thermally challenged", I wore my 5 mil large long hyperstretch suit that I had extensively altered (taken-in) by Liquidfit, and was quite comfortable. Kriss was wearing a 5/4/3 mil suit and was equally toasty.
My Dive Buddy
Overall, we found the dive staff and boat crews to be friendly, helpful and knowledgeable. The DM's did a good of job of critter spotting and guiding without being overbearing. The diving was as enjoyable, easy and stress free as you will find just about anywhere.
Peacock Flounder
Jade Mountain at Anse Chastanet
Following our initial shore dive and a lunch, we trekked up the 130 steps (yea, I counted) to the upper car park area to catch a waiting van that would take us up the steep road to the Jade Mountain reception area. I find that words fail this poor Kentucky boy in trying to describe this property. I would suggest you take a gander at the Jade Mountain web site to get an idea of what this exclusive resort is all about.
Jade Mountain
Our suite was located on the lowest of the six levels. While it lacked the ensuite infinity pool that most of the rooms offer, it was still by far the most upscale hotel room I have ever stayed in. We did have access to the community infinity pool located in the Jade Mountain club on the top level of the resort. The three level suite probably approached 1,000 square feet in size and offered a spectacular view of the Piton mountains and the Caribbean sea through the open fourth wall. Of course, the views only get better the higher up the room. The downside of the missing wall is that the room is open to the great outdoors, and on a tropical island that means mosquitoes. Mosquito coils are provided, and the bed is surrounded by netting, but I still found them extremely bothersome. While I'm primarily of Scotch/Irish/English heritage, some Viking genes must have forced their way in at some point, as I'm one of those blue eyed - fair skinned people that mosquitoes love to feast on. Judging by the number of bites others at the resort were sporting, I was not alone in this problem. Kriss, on the other hand, only picked a few bites during the week. Several of the other rooms at AC also feature an open wall, so make sure you bring lots of good insect repellant. Obviously there is no air conditioning, but numerous ceiling fans help keep the rooms comfortable.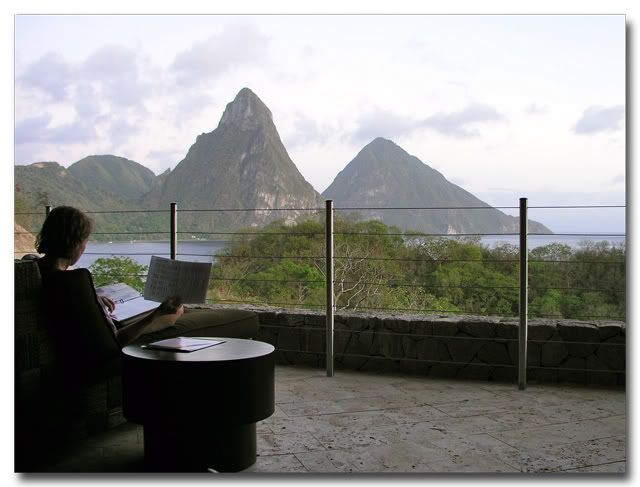 View from our Room
By design, the rooms are "techno-free" and lack a television, radio or telephone. They do however feature a small refrigerator and coffee maker with a daily refreshed supply of very good St. Lucian coffee and English teas. A computer and internet access is provided at the Jade Mountain reception area for those who cannot totally escape the real world. The bathrooms are equally well appointed with numerous huge towels, robes, slippers, a hair dryer (that went into thermal shutdown on the high setting), and enough lotions, ointments and potions that a TSA agent would have a heart attack if you tried to bring them on a plane.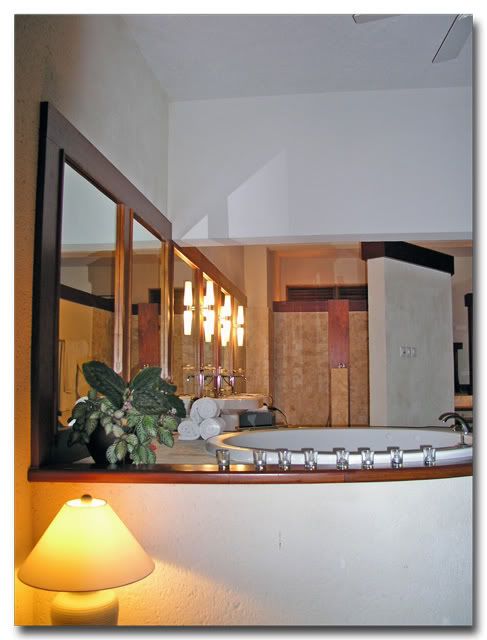 Don't expect a door or shower curtains in the bathrooms
As one can imagine, the hike up to the rooms in the upper reaches of Anse Chastanet, and particularly Jade Mountain, entails a bit of a climb. Although in decent shape, we found ourselves a bit winded after walking up to our suite. There are several strategically located "viewing areas" that allow you take a bit of a break as you make your way up the steps if needed. Some beach level rooms are available, but of course, they lack the stunning views for which AC is famous.
Dining at Anse Chastanet
Overall, we found the food and service at AC and Jade Mountain to be very good to superb. We are mostly vegetarian, though we do eat sustainable caught fish occasionally, and very rarely will eat some red meat or poultry. Several veggie meals are offered on the menus and by simply upping our fish consumption a bit, we had no problem with the choices. We typically breakfasted at the Piti Piton restaurant, which was located about midway between our room at Jade Mountain and the beach. Be sure to ask about the breakfast special, as they tended to be excellent. Lunches were taken at the Trou au Diable Restaurant on the beach about a stones throw from the dive shop, and were also very good. We ordered a room service dinner for 8:00 PM following our Monday night dive, since there was no surcharge for room service at Jade Mountain. The dive started about a half hour later than we had planned and resulted in our getting back to our room just a few minutes before 8:00. When the waiter arrived at 8:05, he was extremely apologetic for being "so late". Kriss assured him it was absolutely no problem (I was still in the shower). That meal too was excellent. Since we missed the Jade Mountain reception on Monday due to our night dive, we went to the AC manager's reception on Tuesday and stayed for the Caribbean Buffet at Trou au Diable. Trying to be a good vegetarian, I ordered a Greek salad and was thoroughly disappointed. That was the only substandard meal of the week. Had I actually been paying the À la carte price (nearly $150 for the two of us with a couple of drinks) it would have been worthy of a complaint.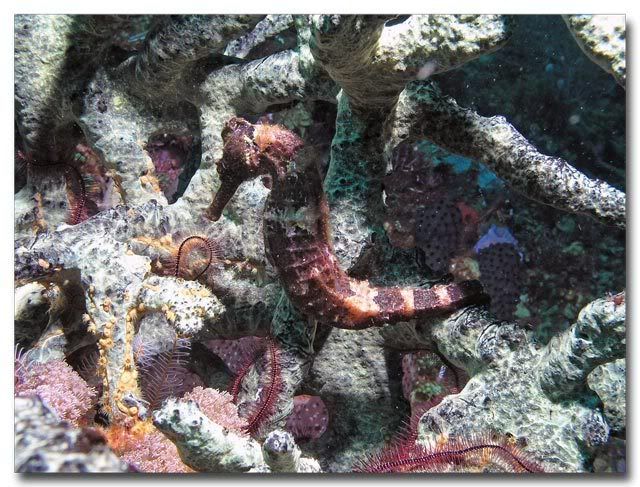 Sea Horse
On evenings except for Tuesday, Trou au Diable offers an East Indian/Caribbean fusion menu that was also outstanding. Our other dinners were eaten at the Jade Mountain Club. While the menu is limited, you choose between two appetizers, two entrees and two desserts, the food, service, and presentation were excellent. Most wines by the glass and alcoholic beverages, but not all, are included with the meal plans. Be sure to watch out for those tiny asterisks. Wine by the bottle and champagnes are not included in the package price. We both found the local beer, "Piton", a fairly well hopped Pilsner, to be very drinkable. Couples should also give the house cocktail "Stairway to Heaven" a try. I'll just say I believe the description in the menu to be accurate and leave it at that. We did not get a chance to dine at the Tree House Restaurant or partake of the afternoon teas during our stay. The dress code for dinner at Anse Chastanet is "smart casual" and men are asked to wear a collared shirt and long shorts or slacks.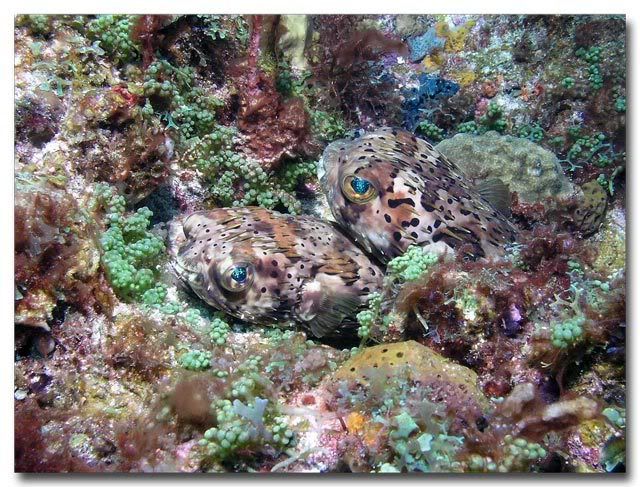 I'd Be Grinning Too
Service throughout the resort was also very good without a hint of mañana or the "attitude" common in some locales. While the desk at Jade Mountain did manage to mangle the scheduling of some of the activities we planned through them a bit, it was easily corrected. We could not pass an employee without be greeted or asked how our stay was going. I only wish my staff had been so well trained back in the days when I worked in resort management.
Azure Sponge
Other Activities
Diving is only one of many activities offered through the resort. Numerous tours and hikes are available, as are glass bottom boat trips, bird watching and dolphin and whale watching trips. Kayaking, sunfish sailing, and sailing trips on the resort's 42-foot (13 meter) sloop can be arranged. Deep-sea fishing, shopping trips, tours of other islands, and climbs up the Piton Mountains are also available. In other words, you will not be bored unless you want to be. In that case, you can hang out in one of the hammocks or a lounge chair under a palapas on the beautiful dark sand beach and swill rum drinks. If you get tired of the scenery at the Anse Chastanet beach, the complimentary water taxi will run you over to the adjacent cove at Anse Mamin, which is a part of the six hundred acre resort property.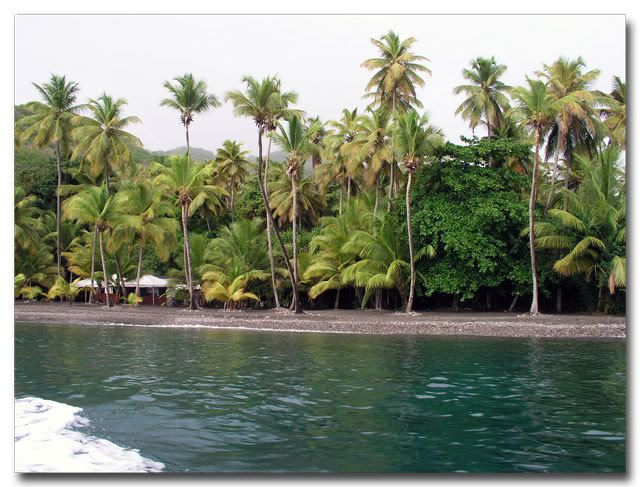 Anse Mamin Beach
One afternoon we tried the jungle mountain biking at Anse Mamin. I have never mountain biked before and always wondered what the appeal was. If I were thirty years younger and actually had a sense of balance and some spare time, I could see getting into this. We also did a couple of the complimentary hikes including a historical tour of the Anse Mamin plantation and the very strenuous Morne Lastic Walk.
Yellowline Arrow Crab
St. Lucia Essentials
English is the official language of the island, though among themselves, the locals speak a French based patois called Kwéyòl, common only to St. Lucia and Dominica. St. Lucia is served by two airports, Vigie, aka George F.L. Charles (SLU), in the north near Castries, and Hewanorra (UVF) in the south. If you fly into Vigie, be prepared for an rather unpleasant hour long shuttle van ride on some of the tightest switchbacks I have ever seen. Yes, due to the roads, the van actually takes longer than a water taxi. If you are at all prone to motion sickness, take your meds well in advance - seriously. Of course, if you can actually afford a room at Jade Mountain, you will probably want to charter a helicopter to land you at the resort's private helipad.
Scarlet Stripped Cleaning Shrimp
Power on the island is 220 volts, 50 cycles and uses a three prong square European plug. Jade Mountain provides a transformer with a single U.S. style three prong outlet in the room that will step the voltage down to 110 volts, but still at 50 cycles, so some chargers and other devices may not work (most laptops should work, but check your power supply - if it says "input 50/60Hz" you are OK). I don't know if the other Anse Chastanet rooms have transformers, best to ask in advance if you need one. I believe 110 volt 60 cycles power is available at the dive shop if your charger requires it.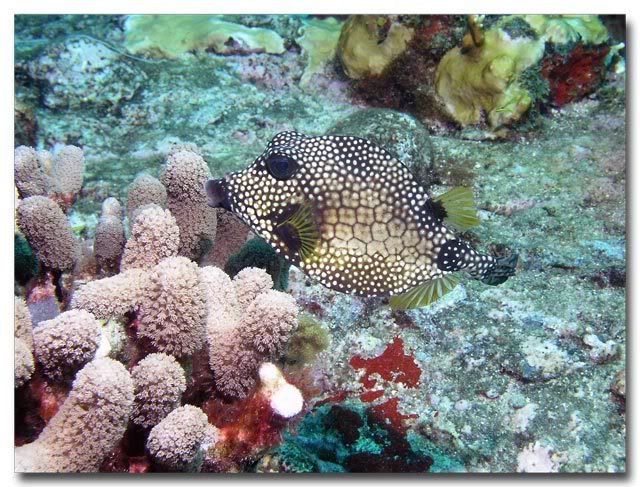 Smooth Trunfish
Currency is the Eastern Caribbean (EC) dollar and the official exchange rate was EC$2.67 to one US dollar during our visit (you will probably get EC$2.60). U.S. dollars are widely accepted, but expect change in EC$. Major credit cards and travelers checks are also widely accepted. Be prepared to pay a US$26 departure tax at the airport ticket counter. A 10% service charge is typically added to restaurant bills. St. Lucia is on Atlantic Standard Time (GMT-4) and does not observe daylight savings time. Crime is not a particular problem on St. Lucia, but appropriate precautions should be taken. It's always a good idea to check the State Departments Consular Information Sheets when contemplating foreign travel.
The rainy season runs from June through November. Usually the heavy, but sporadic rains are quickly followed by blue skies. In talking with the DM's, they said viz does drop some during this period, but usually they can find sites with a current that still provides good diving. December - January are the coolest months with temps in the mid 70's to mid 80's (~ 24 to 30° C). June through August are the warmest with temps that can hit the upper 90's (~36° C). St. Lucia is of course in the hurricane belt.
Crinoid in Sponge
Summing Up
Usually after a week of travel, I'm ready to head back home. Not this time. If somebody else were footing the bill I would have been willing to stay a whole lot longer. Some of the best diving in the Caribbean? Not exactly, but it was still very good and thoroughly enjoyable. If you are looking for top-notch romantic resort in a stunningly beautiful setting, (and don't mind a few skeeters), Anse Chastanet gets my very strong recommendation.
Something You Don't Want to See... Portuguese Man-Of-War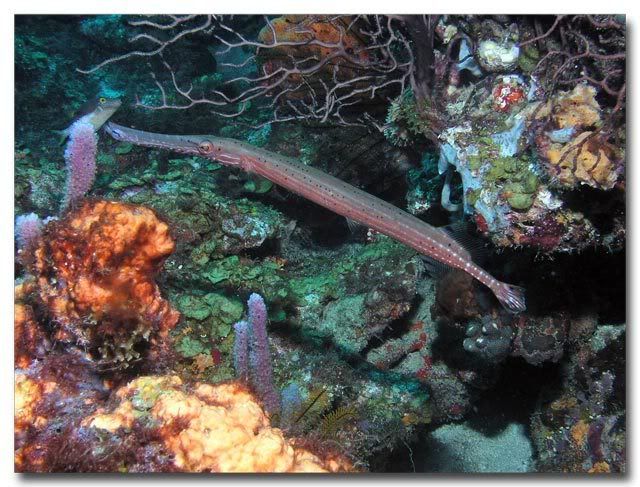 Trumpetfish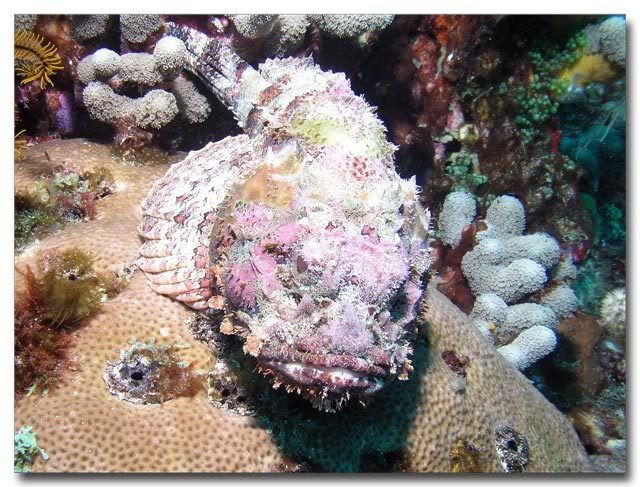 Scorpionfish
Turtle at Superman's Flight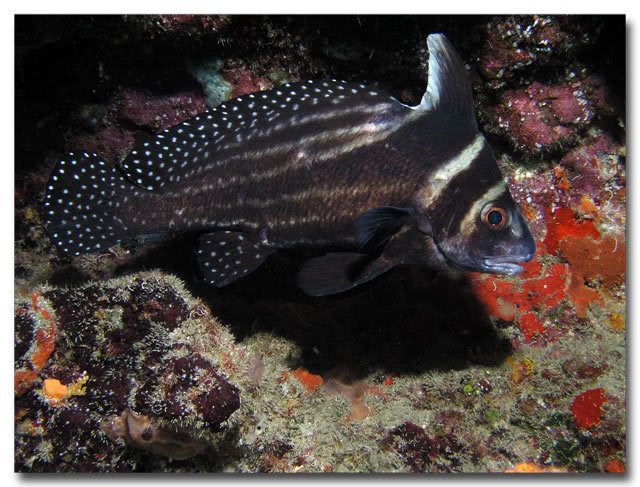 Adult Spotted Drum
Obligatory Closing Sunset Shot
Anse Chastanet Beach
DSDO, and don't let the skeeters bite.